Frequently Asked Questions
How secure is my private information?
The Lovefactorinventory.com has the highest, most advanced degree of protection. This site  and data are secure via an SSL certificate and a firewall protection by Defender.  We only use the download feature for you to access your PDF reports. Your PDF report is protected behind the SSL and Firewall. No one can access your information unless you give them your login credentials. We do not email your results and personal information.  Your information has the most advanced state of the art protection.
In addition, we do not share your personal information with any third party. We respect your privacy.
How do I access my report?
Once you complete the assessment and click "send" you will be redirected to a screen with your report. You will see a bar graph showing your percentile scores for each scale and an interpretive report explain what your scores mean.  You can also download a PDF file of the interpretive report if you want.  The graphic below shows you the page and the link you will find to "Download PDF."
The downloaded file will not contain the Bar Graph. If you want to have a copy of the graph on your personal computer, simple take a screen shot (Shift+Command+3 on a Mac) of the Graph and print it out from your computer.
Please remember that your information is totally secure since we are using a download method and not emailing this information to you. The download occurs within an SSL protected website behind a GoDaddy Firewall.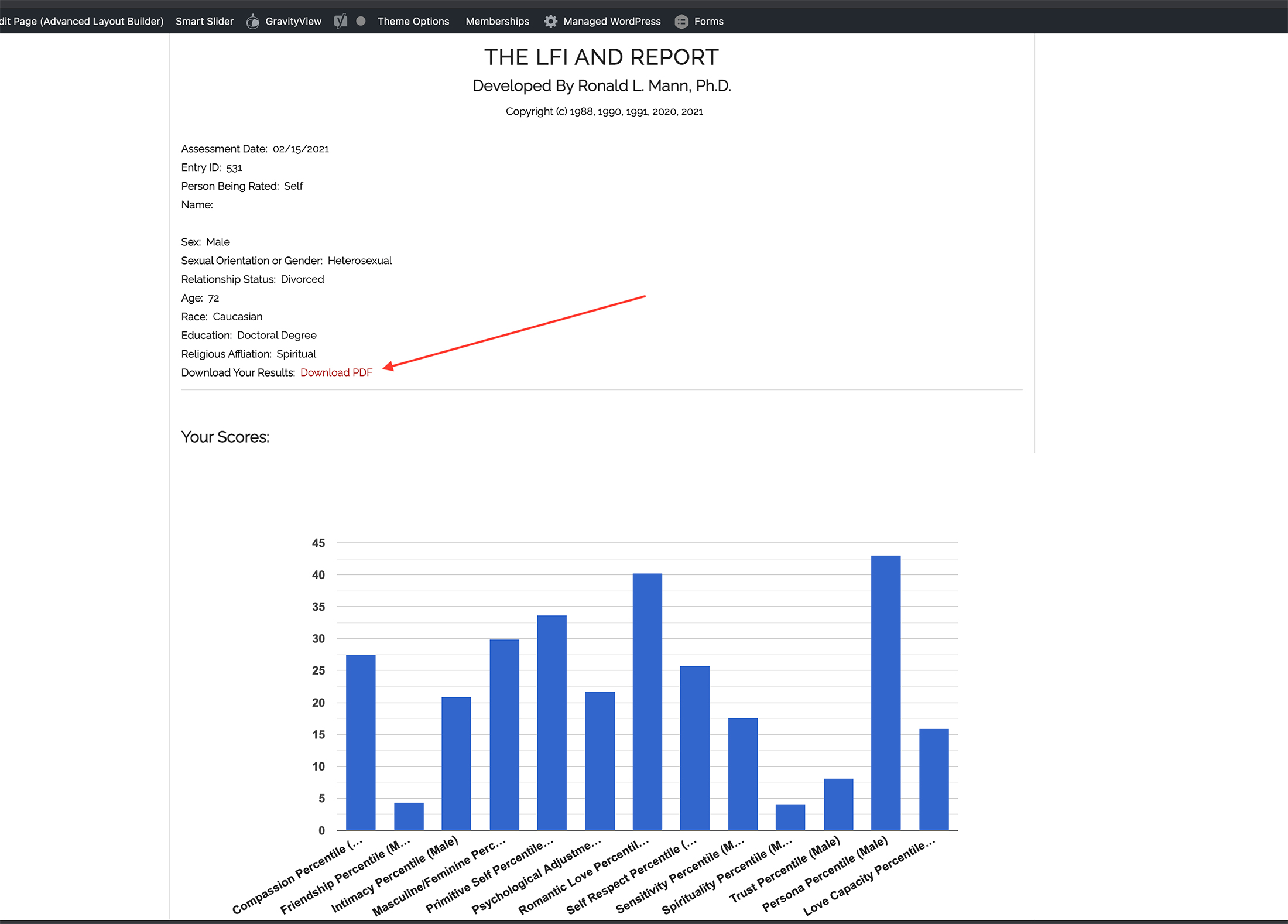 Alternative Method to View Individual Results
Once you have completed the LFI you  can login and return to the LFI Access Page for the individual user. You will see a message at the bottom that states that you have already completed the Assessment and can view your results by clicking on the available link: "View Your Results Here."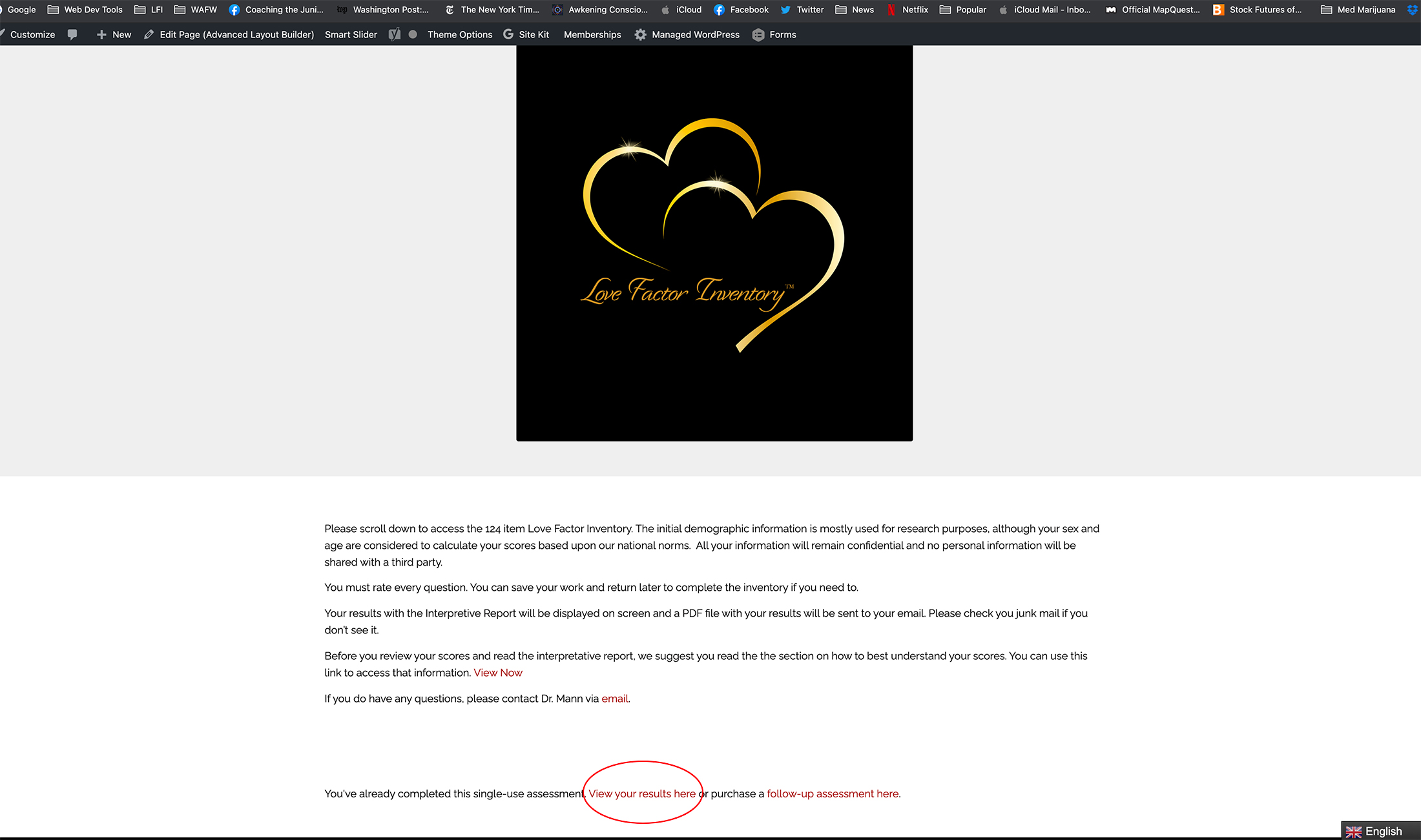 How do I see my responses on any particular scale?
If you do not understand your score on a particular scale, you can view the "Items by Scale" PDF and review your responses on all the scales. You will find this link on the "Reports" view. Once you see how you answered each item, you will probably have a greater understanding of your final results. It would probably be very helpful to review this section with a Certified LFI Coach or Therapist.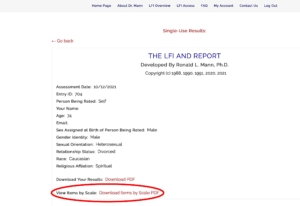 Do I Need a Coach?
The Interpretive Report is very comprehensive and provides a good start for self-discovery and enhanced communication between couples. However, a professional coach/therapist will take your understanding to a new level.  A Certified Professional has access to the internal items per scale and can help you further explore your responses and help you apply your insights to all aspects of your life.
How do I access the Couples Package?
The Couples Package is one of two membership levels: "Single Use for LFI" and "Couples Package."
First, open the Membership Levels link under "Membership Account."
Next, select the "Couples Package" to purchase. Please see image below.

Now, "Checkout" and pay for the Couples Package.  You will now gain access to four (4) assessments. See image below. You and your partner take the LFI twice, one self rating and one rating of the other.
Please note that the number of assessments remaining is shown. See text in red circle below. You will be able to know how many uses you have left.
You can always gain access to the Couples Package assessments from the LFI Couples Access link in the drop down menu under LFI Access. You must be logged in to access this level.
Each time you complete an assessment, either for yourself or your partner, once you click the submit button, you will see the result for that assessment.  Please see the text below, "Review and compare your results here." Click on this link and you will have access to all of the Interpretative Reports you have completed. Use this link to come back and review all of your assessments and compare your perceptions with the perceptions of your partner.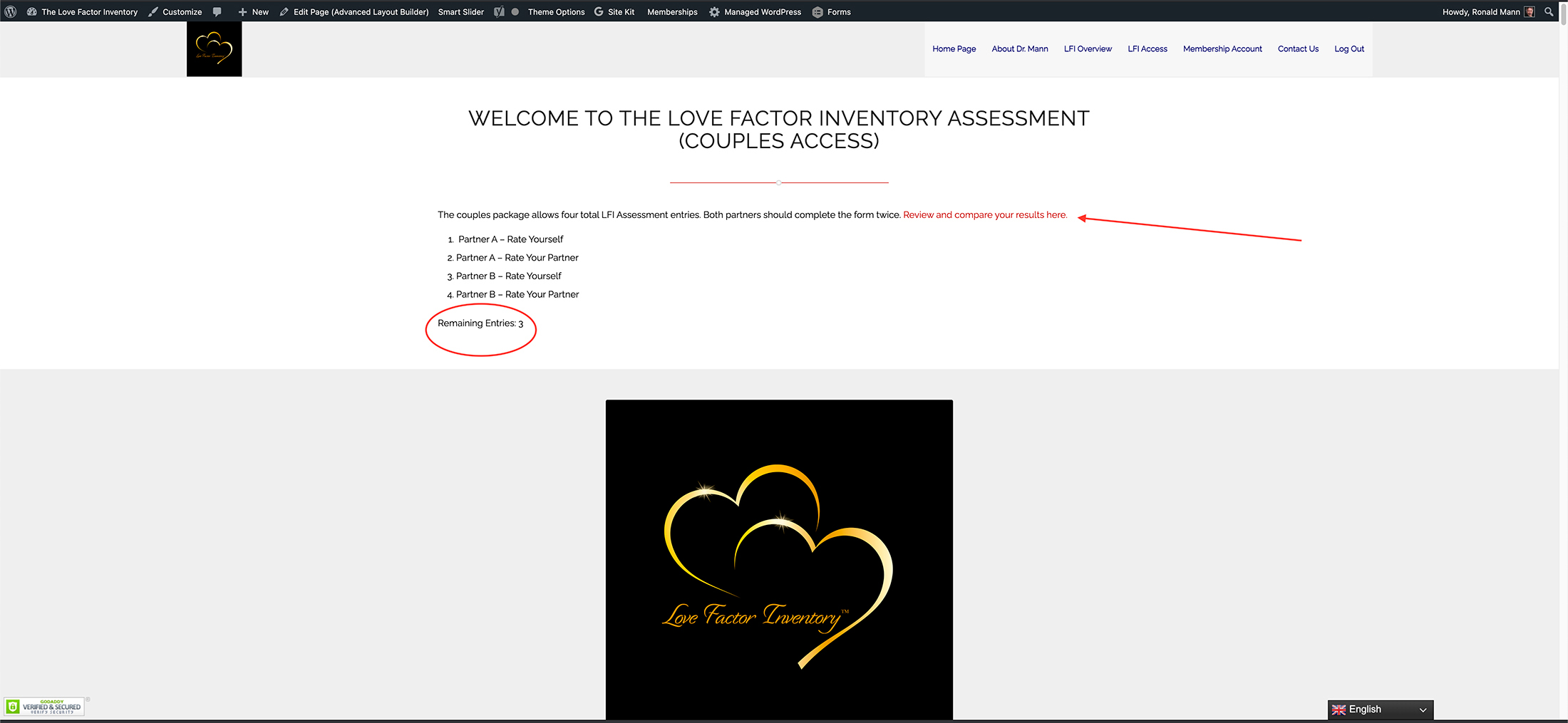 How do I access my Follow-Up Report at half price?
Once you have completed your first LFI Assessment, you can now retake the LFI in the future with a 50% reduction in cost. We hope this will encourage you to come back again and again, in the future,  to document the gains you have made in your capacity for love.
You will find a link on the LFI Access page for your Follow-Up Assessment. This link will only appear if you have already purchased and completed the LFI Assessment. In addition, you must be logged in to see this link.
Please view the graphic below to know what to look for. The link is highlighted with a red oval.
Once you click on the link, it will walk you through the purchase process for the follow-up assessment and you will see the reduced price.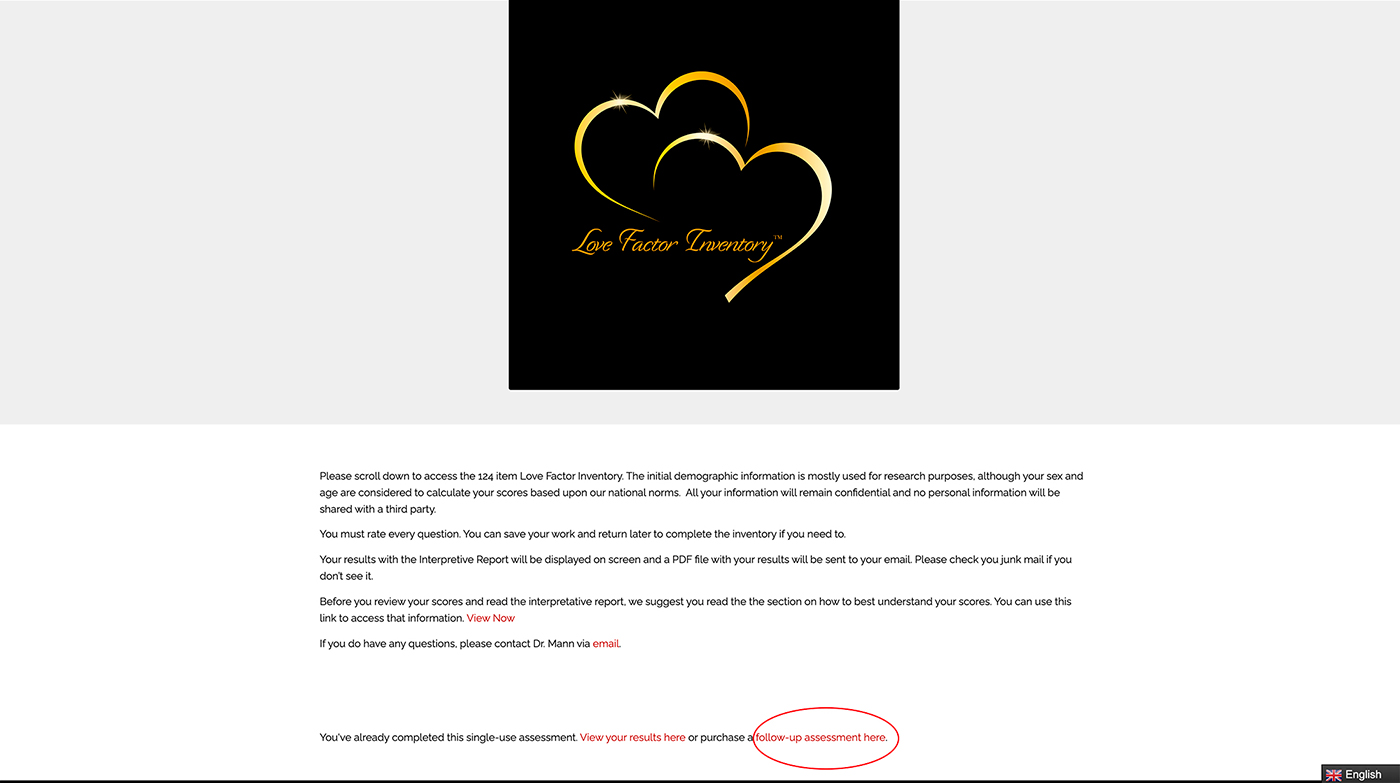 Why does a page not load?
If your page appears to be hanging up, simple refresh your screen and the page will load.
Best Browser to Use?
Google Chrome and Firefox are the best browser to use with the LFI form. For some reason, Safari does not load well. It will work, but might take a couple minutes to load. If you use Chrome on your iPhone or iPad, the LFI form will load within a few seconds.
Best Device to Use
You can view the contents of this site and complete the LFI on any device: desktop, laptop, iPad, iPhone, etc.